Pumolì white - Pumo in ceramic handmade with 200ml of organic extra virgin olive oil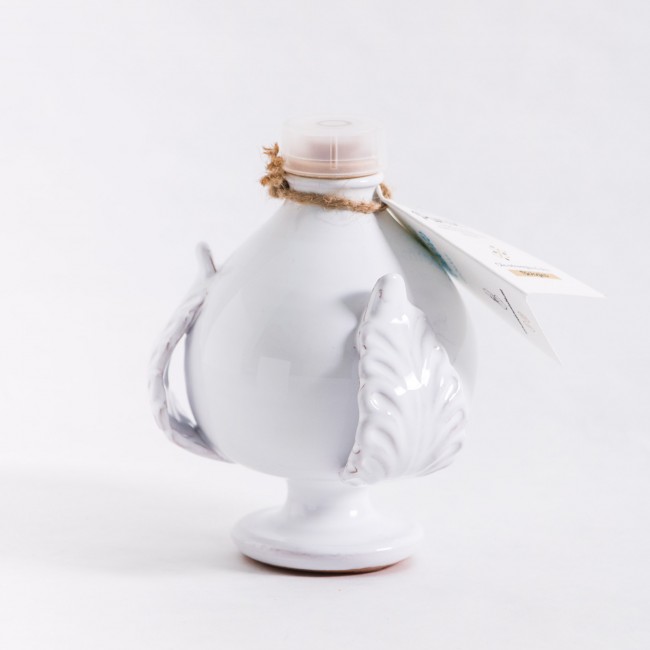 New Pre-Order
Pumolì white - Pumo in ceramic handmade with 200ml of organic extra virgin olive oil
Stock:

Pre-Order

Weight:

1.02kg

Dimensions:

21.00cm x 7.70cm x 7.70cm
Ideal to taste raw to dress salads, bruschetta, soups, grilled vegetables, octopus and grilled cuttlefish, fish carpaccio. Excellent for the preparation of vegetable preserves and meat carpaccio.

Cultivar: 80% native and ancient OGLIAROLA 20% CORATINA variety of the PUGLIA region. Olive groves owned by the Rubino Family for generations, over about 70 hectares, raised by a polyconic vase growing system – plant age over 100 years.

Harvesting area: province of Bari in the north-western mid Murgia in the countryside of Palo del Colle, far from main communication routes.

Preservation: store at a temperature between 12° and 18°C in a cool and dry place, away from light and heat. Shard and long-lasting drops in temperature can cause the wax crystallisation naturally occurring in extra virgin olive oil and lead to oil freezing with the formation of small white floating spheres – such phenomenon does not affect the oil quality.

Appearance: golden yellow with green tinge depending on the bottling time.

Taste: pleasing on the palate, the fresh almond taste goes with a characteristic sour note – typical of wild chicory is felt with a spicy note due to the presence of phenols (VIT.E) which disappears in an overall sweetness.

Suggestions: ORGANIC extra virgin olive oil is indicated during the baby weaning process.

Harvesting time: the end of October to December and in any case at the beginning of veraison (beginning of fruit ripening).

Harvesting technique: mixed, hand picking – shaking – beating .

Extraction time: on the same day and in any case within 12 hours to better guarantee the product freshness.

Extraction method: continuous line with cold two-phase centrifugal extraction- Barracane- internal temperature below 27° C.

Filtering: no filtering, natural settling and transferring, "must oil".

Storage: in-ground tanks at controlled temperatures to preserve sensory properties.